A couple of high profile comic series have completely sold out their most recent offerings prompting Image to schedule a second edition of G.I. Joe Vs. Transformers #1 and Marvel to collect the sold out issues #34 and #35 of the Ultimate X-Men into a Marvel Must Have reprint. Image, which has seen a number of G.I. Joe titles (including the second G.I. Joe trade paperback) sell out in recent weeks, is going back to press with the G.I. Joe/Transformers crossover title, produced in conjunction with Dreamwave Productions. A limited second edition printing of G.I. Joe Vs. Transformers #1 has already been scheduled and will ship in mid-July.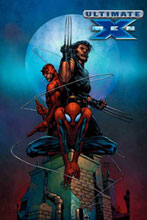 Ultimate X-Men
Although Marvel has recently decided to reprint the first issue of Trouble (see 'About Face: Marvel Reverses No Reprint Policy'), it has not given up on its Marvel Must Haves, which typically collect two issues into one reprint volume. While many retailers prefer second editions to the Must Have format, at least in this latest instance Marvel is reprinting sequential issue of the same title in its new Must Have collection. Marvel announced today that it will be reprinting Ultimate X-Men #34 and #35 in a 48-page Marvel Must Have that will hit retail on August 6, a week before Ultimate X-Men #36 on August 13. The new Must Have edition collects the first two issues in a six-issue story arc by Brian Michael Bendis, who wrote Marvel's most successful Must Have, Ultimate Venom, the first Must Have edition that had to go back to press for a second printing. The new Ultimate X-Men Must Have #34-35 features the art of David Finch and sports a very reasonable cover price of $2.99.
Both Ultimate X-Men #34 and Ultimate X-Men #35 have sold out from Diamond and a high volume of backorders (as well as increased pre-orders on the Ultimate X-Men series) indicated to Marvel that there was a good deal of unmet demand on this story arc, which focuses on the ever-popular Wolverine and features guest-stars Spider-Man, Daredevil and the Black Widow.

The Marvel Must Have: Ultimate X-Men #34-35 (Diamond order # MAY035099) is available for order immediately.