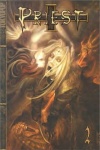 ICv2 has learned that Tokyopop is close to signing a deal that could pave the way for a live action movie based on Priest, a popular 'manwha'
(Korean manga) title by Min-Woo Hyung.

Priest is an epic fantasy series set in the frontier days of the American West (though it ranges across the centuries).

The eponymous hero Ivan Isaacs is a fallen priest who has sold his soul to the devil Belial for the power to return to life and fight the denizens of the evil Archangel Temozarela.

Armed with a savage blade and demon-killing silver bullets, Isaacs fights against long odds for the redemption of humanity.

Tokyopop has already published nine of the 15-volume Priest series.
Tokyopop CEO Stuart Levy told ICv2 that the savage battles, narrative sweep, western setting, and epic scope of Priest make the property especially attractive to Hollywood studios interested in creating an epic fantasy franchise.

Look for a deal to be announced in the near future.