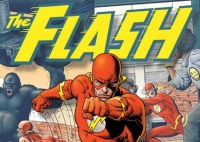 Variety
is reporting that the WB network has ordered a pilot episode for a new live action series based on the DC Comics character
The Flash
.
The Flash
is no stranger to television, but the new, post-
Smallville
incarnation of the character won't be wearing that familiar red spandex costume.
The new Flash is just an ordinary guy fresh out of college who discovers that he has superhuman speed.
Suddenly he has found his calling and adopted a new mantra, 'Live fast so others don't die young.'
In addition to milking the 'no tights, no flights' superheroes-in-the-real-world aspects of
Smallville
, the new Flash will also use his super speed to travel back and forth in time, thus opening up a host of new narrative possibilities. Carolyn Bernstein, WB EVP of Drama Development, characterized the show to
Variety
as 'a big fun adventure series.
There's also a mentor character who'll train him, and there's a legacy of Flashes before him.'
The WB is attempting the same sort of Smallville-influenced 'new' approach to the Tarzan series debuting this fall.

In spite of the failure of last season's Birds of Prey series the network appears convinced that these revised contemporary 'takes' on classic characters will be able to duplicate at least a portion of Smallville's success.

Although the WB does seem to be genuinely enthused at the prospects of the new Flash, the show will have to get through the pilot phase, and, if it is picked up as expected for the 2004 season, show some ratings promise in the early going.

The success of a new Flash series would be a good thing for pop culture retailers, but the jury is out on that proposition for at least fifteen months.

In order to generate much in the way of licensing the typical television series has to be on a minimum of two years.