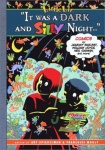 While retailers and fans alike complain about the lack of comics for kids, the Little Lit series edited by Art Spiegelman and Francoise Mouly provides comics-based storybooks that can entertain precocious children as young as 4 and expose them to the delights of sequential visual storytelling long before they are capable of reading an Archie comic or a Walt Disney Comics & Stories on their own. Perhaps there are pop culture retailers who can't sell these books, but others, especially those who sell a lot of graphic novels, have had considerable success with this series (see 'Little Lit Sells Big'). This holiday season Harper Collins is issuing the third volume in the series, It Was a Dark and Silly Night.
The 48-page, full color hardcover features the same brilliant design work that has been the hallmark of the series (and what one would expect from the team that published Raw Magazine). While the first volume in the series, Little Lit, concentrated on folklore and fairy tales, and the second book, Strange Stories for Strange Kids, had a decided science fiction bent, It Was a Dark and Silly Night provides 15 top artists and writers with a common first sentence and allows them to spin their tales in any way they choose. All the entries are fun, but the Lemony Snicket (Daniel Handler) and Richard Sala story (which makes 'silly' into an anagram for 'somewhat intelligent, largely laconic, yeti') and the Neil Gaiman/Gahan Wilson story stand out, along with efforts by William Joyce, Joost Swarte, and Kaz.
The other two volumes in the series are also available (the first, Little Lit, is particularly good), and it definitely makes sense to keep all three in stock through the holiday season.