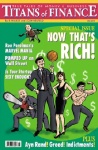 The Japanese have a reality-based comic that examines thorny economic issues, appears in the Japanese equivalent of the Wall St. Journal, and was collected in a bestselling volume entitled Japan, Inc. Now a U.S. publisher, Alternative Comics, is publishing Titans of Finance, written by R. Walker and illustrated by Josh Neufield. Based entirely on articles that have appeared in the financial press about the actions of some of America's most infamous CEOs, Titans of Finance is a muckraking expose that lays bare the antics and excesses of some of the most hated captains of industry in contemporary America including downsizing expert 'Chainsaw' Al Dunlap and 'conservative' investment guru Jay Goldinger.
But the reason you might well want to stock the premier issue of Titans of Finance in your store is the profile of Ronald Perelman, the man who made hundreds of millions while presiding over the Mighty Marvel Comics trainwreck.

Judging by the number of stories on Comicon and other comic sites concerning Perelman's financial misadventures with Panavision, Coleman, Revlon, etc. (and on ICv2, see 'Sunbeam Files for Chapter 11,' and 'Perelman Buys his own Junk'), there is obviously quite a bit of interest in the comic market in seeing the 'Ronald' get his comeuppance, though it is typically the companies that he has acquired that take the financial hit rather than his still considerable personal fortune.

Nevertheless, with Perelman's financial empire at least temporarily in decline, Titans of Finance is a fascinating read and a great demonstration of the power of the comics medium to elucidate and enliven the complicated financial machinations that Perelman and others have used to slag both the companies that they acquire and the stockholders that they are supposedly serving.