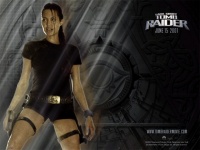 The summer movie season shifts into high gear with the Memorial Day weekend debut of Disney's much-ballyhooed Pearl Harbor. Lurking right behind the 'sneak attack saga' is Tomb Raider, which bows on June 15th. Based on the popular video game, which has already spawned a comic series from Image, Tomb Raider has the potential to be one of the biggest films of the summer in the specialty store market. NBC and Paramount have been running spots during the NBA Playoffs (with a link to a Tomb Raider Sweepstakes on NBA.com), and a major $30 million coordinated campaign with Pepsi and Taco Bell is all set to kick in during the final few weeks before the film opens (see 'Tomb Raider Campaign Set').
Pepsi's campaign is tied in with the Tomb Raider videogame via a 'Raid the Pepsi Search for PlayStation' contest with game pieces in 340 million Pepsi packages, which will be on shelves through the end of August. Prizes include PS2 gaming consoles, videogames, and Tomb Raider posters. Pepsi is also buying $15.2 million dollars worth of TV advertising that will tie-in directly with the movie and the contest. Tomb Raider is the only film that Pepsi is promoting this summer.
Taco Bell, which is owned by Pepsi, has a $13 million dollar campaign of its own supporting the Tomb Raider film with TV spots, cups, counter mats, and standees. The Bell will conduct a Tomb Raider match-and-win contest that will run in June and July in the 7,000 Taco Bell locations throughout the U.S. In addition to the contest, Taco Bell will also dispense archeologically-themed toys inspired by the Tomb Raider film.
The Tomb Raider promotions are not all 'tacos and soda.' The wireless phone maker Ericsson is creating a $10 million dollar international campaign to link its sleek cell phones with the film, and prestige automaker Land Rover will also promote the film with a $6 million dollar worldwide campaign. Ericsson, Land Rover, and Pepsi will also receive the on-screen 'placement' treatment for their high profile products.
With trading cards from Inkworks (see 'Inkworks Summer Trifecta'), , toys from Playmates, and the comic series from Image, Tomb Raider offers retailers a wide range of related merchandise.

Don't neglect paper goods, especially the sexy movie posters, which take full advantage of the Lara Croft character's tangible assets (see 'Tomb Raider Poster a Knockout').