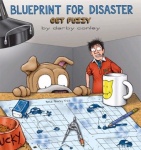 The first two titles on the BookScan graphic novel list for the week ending January 18 are newspaper strip reprints, and the best-selling 'graphic novel' of the year so far is a collection of Darby Conley's Get Fuzzy comic strips, Blueprint For Disaster, which had already sold some 7,600 copies in less than a month in the bookstores reporting. Whatever the wisdom of ranking comic strip reprints with graphic novels (a change to the Bookscan lists that seems to have come up in the last couple of months), the strong sales of the top strip reprint collections should indicate to pop culture retailers that with the proper promotion, these volumes can really move. With multiple titles still hanging on in the top 100, comic strip veterans Gary Larson and Bill Watterson, whose books sold tens of thousands of copies in comic shops worldwide a decade ago, have demonstrated that their books still sell, but Conley's Get Fuzzy collections, Andy Riley's sardonic Book of Bunny Suicides (#7), and Aaron McGruder's Boondocks collection, A Right To Be Hostile (#16) have all done well in bookstores in 2004, indicating that there is a new generation of comic strip artists with considerable sales potential in pop culture stores.
Aside from four volumes of strip reprints and two titles from DC Comics, everything else in the top 25 is manga. Dark Horse's new manga line, co-published with Digital Manga, is well represented. The first volume in the Hellsing series has remained at #8 for the past three weeks, while the first volume of Trigun, which has been out for over two months, only recently slipped out of the top 10 and still resides at #14. The second Trigun book (#22) is just starting to hit the bookstores and it should make the top ten next week.
Though Tokyopop has 40 titles in the top 100 to Viz's 25, Viz has the two top-selling manga titles of 2004 so far, Rurouni Kenshin Volume #2 (5600+) and Volume #1 (c. 5000). In interviews conducted by ICv2 for the new Retailers Guide To Anime and Manga, direct market retailers indicated that Rurouni Kenshin has also been a dominant manga title in comic shops. Yu Watase's Alice the Nineteenth Vol. #2 is the best-selling shoujo title at #5---this series is clearly a hit with female readers in the bookstore market. Viz's Yu-Gi-Oh! series is clearly a hit with more than 4,100 copies of Volume #3 sold since the beginning of the year, and there are no fewer than seven Inu Yasha volumes in the top 100.
Tokyopop's top title in this week's snapshot of bookstore sales is the manwha release, Demon Diary Volume 5, which occupies the number six position. The second volume of Tokyopop's .hack//SIGN series remains in the top ten at number nine and is the third best-selling manga title of the year so far. Anime-related manga such as Ai Yori Aoshi (#10) and FLCL (2400 copies of #1 sold so far this year) have fared well as did the shonen-ai title, Fake Vol. #5, which holds the #11 spot for the week and has sold more than 3,300 copies so far in 2004. Tokyopop's big hits of 2003, Love Hina and Chobits continue to sell (with more than 1700 of the former and nearly 2000 of the latter sold in 2004), though not quite with the incredible velocity they had last year.
Alan Moore's The League of Extraordinary Gentlemen Vol. 2, which came in at number 20, was the top American comic book collection, followed closely by Batman Hush at #24. JLA Liberty & Justice, which was the direct market's #1 trade paperback title of 2003 came in at #49, while Neil Gaiman's Sandman: Endless Nights was at #56. Alan Moore's venerable Watchmen graphic novel has sold over 800 copies so far this year and occupied the eighty-sixth spot on this week's list. With eight titles in the top 100, DC Comics was the top publisher of American material, narrowly edging out comic strip reprinting specialists Andrews McMeel, which had seven spots.