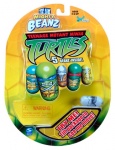 What's the next big collectible fad? It could be Mighty Beanz, thimble-sized, capsule-shaped plastic 'jumping' beans that wobble around thanks to an internal ball bearing. Sold in packs of five with one bean visible and four hidden, the first two series of Mighty Beanz, each of which included 60 different characters, have sold out. Characters in the first two series, which were developed by Moose Enterprises Ltd. of Australia, are pretty 'generic' -- Elephant Bean, Rapper Bean, and the ultra-rare Mighty Moose Bean, but Spin Master Ltd. of Toronto, Canada, the company which owns the North American rights to Mighty Beanz, has also fielded several series of licensed Mighty Beanz, including a 56-character series of Marvel superheroes and villains and a 32-Beanz Teenage Mutant Ninja Turtle series. A follow-up 'Ultimate Marvel' series will debut this spring along with a Simpsons series and a balance-challenged scrum of National Hockey League stars. The licensed Marvel Beanz have an MSRP of $5.99, while the original Mighty Beanz sell for $4.99 per pack.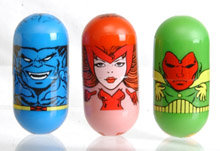 Spin Master introduced the Mighty Beanz to the American market in August and sold more than 6 million units by November. Spin Master was able to obtain widespread mass-market distribution for Mighty Beanz in Wal-Mart, Toys R Us, and KB, but short supplies and strong demand kept the product hot in the hobby market. Marty Faierstain, president of Sportsline Distributors, told ICv2 that his sales of Might Beanz were growing weekly. 'It's one of those things like Pokemon and Yu-Gi-Oh, where retailers say 'I haven't heard about it, let me wait' and then when they ask around and hear about it, they place an order and it sells....I can't get as much as I could sell.'
Genio, which has already produced a series of educational cards based on Marvel characters, recently acquired the license from Spin Master to create a Mighty Beanz Collectible Card Game (see 'Genio Gets Mighty Beanz CCG').