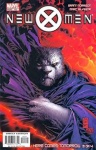 New X-Men was both the top comic (#153) and graphic novel (New X-Men Vol. 6) in comic stores in February, a strong sweep in a relatively weak month. Sales were seasonally lower in February, with 16 of the top 25 books down vs. January. Although it seems like a long slide for comic sales recently, it's worth comparing sales in 2004 to orders one year ago, in February 2003 (see 'Comic Dollar Declines Slow in February'), when the cut-off after the top ten comic titles, for example, was considerably lower than it was this year (even accounting for the difference between orders and shipments).
New X-Men wasn't the only strength at the top of the comic chart for Marvel; 20 of the top 25 titles were Marvels (four DCs and one Dreamwave). The sold-out Secret War Book One from Marvel sold just over 88,000 copies in February.
Numbers on the graphic novel chart were relatively weak as well. Punisher came in behind New X-Men at the top of the list, with Marvel taking four of the top six slots. Viz' Rurouni Kenshin is running the table, now the top manga on both the bookstore and comic store lists.
Diamond increased the number of graphic novel titles on which it reports its sales indexes from 50 to 100 for February, so we've extended our list as well. Titles 51-100 accounted for 28% of the dollars of the Top 100, a higher percentage than we would have expected. Scattered throughout the list, but heavily clustered in the last 20 slots (11 of 20) were a significant number of titles released in previous months, including manga titles such as Rurouni Kenshin and Berserk, DC stalwarts such as Batman: Hush and Y the Last Man, and others from Tokyopop, Marvel, Dark Horse, Viz, Slave Labor, and DC.
The Top 25 comic titles with our estimates of the number sold by Diamond during February are:
113,879 New X-Men #153
109,801 Ultimate Fantastic Four #3
104,067 Marvel 1602 #7
99,930 Superman Batman #6
97,299 Ultimate X-Men #42
92,540 Ultimate Spider-Man #53
88,201 Secret War Book One
86,259 Uncanny X-Men #439
85,712 Uncanny X-Men #440
84,081 Batman #624
84,064 Amazing Spider-Man #504
69,686 Wolverine #11
68,190 Teen Titans #8
65,423 Supreme Power #7
61,388 Marvel Knights 4 #1
58, 798 Avengers #78
57,537 Transoformers Generation One Vol. 3 #1
57,461 JLA #93
55,746 Spectacular Spider-Man #10
55,182 X-Treme X-Men #42
54,644 Daredevil #57
53,459 Marvel Knights 4 #2
53,173 X-Treme X-Men #43
52,685

X-Men Unlimited #1
We are estimating actual sales by Diamond U.S. (primarily to North American comic stores) rather than pre-orders (as we did for the past several years) because Diamond recently changed its reporting and began basing its indexes on actual sales (see 'ICv2 Kicks Off New Top 300 Reporting').

We use those indexes and publisher sales data to estimate a sales number for Batman (the anchor title diamond uses in its calculations), and use that number and the indexes to estimate Diamond's sales on the remaining titles. We can check the accuracy of our numbers by comparing the Batman number that we calculate using multiple data points; our numbers for Batman are within 1/10 of 1% of each other, ensuring a high degree of accurcy.
Because of that change, we will not be able to do year over year comparisons until February of 2004, but in general, it's an improvement to have actual numbers to work with rather than preorders, which have significant differences from sales.