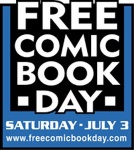 The major publisher sponsors of the 2004 Free Comic Book Day have been named. New or reprint editions of their titles, aimed for various age groups, will be available in the April Previews for order by retailers to give away on the big day.
Gold Sponsors include, in alphabetical order, Archie, Beckett, CrossGen, Dark Horse, DC, Dreamwave, Gemstone, IDW, Image and Marvel.
Silver Sponsors, whose new or reprint editions might have a more limited availability, include About Comics, AdHouse Books, Alternative Press, Arcana Studios, Astonish Comics, Avatar, Baboon Books, Del Rey, Dork Storm, Forcewerks, Highwater, Jetpack Press, Keenspot, NBM, Oni Press, Renaissance Press, Silicon Times, Slave Labor and Top Shelf.
Available comics will vary by store, but all Special Editions are published specifically for this year's Free Comic Book Day with the goal, as in past years, of bringing new readers into comic book stores.
In addition to the comic publisher sponsors, major out-of-industry sponsors will be announced shortly.