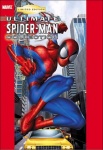 Barnes & Noble is soliciting advance orders on the Ultimate Spider-Man Collection, a 992-page hardcover to be published by Barnes & Noble Books this month. It will retail for $49.95. This represents over a 40% savings to the consumer compared to the cost to acquire the same number of pages in three Ultimate Spider-Man Hardcover Collections at $29.99 each.
Marvel began its relationship with Barnes & Noble's publishing arm last year, when Barnes & Noble began publishing softcover editions of Marvel Masterworks (see 'Barnes & Noble To Publish Masterworks TPBs').

Marvel defended its strategy at the time with the argument that Barnes & Noble's commitment to the softcover editions made the hardcover editions possible (see 'Marvel on Barnes & Noble Masterworks Editions').