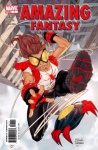 According to Marvel Marketing Manager Andrew Lis, Marvel's new Amazing Fantasy title, first released June 30th, has been garnering major media attention, especially from media targeting Latino audiences. Among the media outlets that have done stories on the title are UPN, WWOR, Univision (national and New York), Telemundo (national and New York), Reuters Latin America feed, Spain's largest TV station, the New York Daily News, New York Post, and the New York Times.
Marvel is still being contacted by two to five media outlets per day looking for information on the title, primarily Spanish-language TV stations, according to Lis.
Marvel postponed the release of issue #2 to give retailers more time to increase their orders; it's now scheduled to street August 4th. Future issues will appear on a regular monthly schedule.