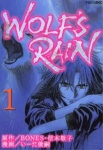 Viz has announced that it will be releasing two additional manga series this fall, one of which is a two-volume adaptation of the popular Wolf's Rain anime series from Studio Bones. With its dark, driven characters and post-apocalyptic storyline, Wolf's Rain is the sort of somber, uncompromising and thought-provoking science fiction anime that typically finds favor with American audiences.
With exposure on the Cartoon Network, this 30-episode anime series, produced by several of the key creators of Cowboy Bebop including Yoko Kanno, is a likely hit, and the shonen manga adaptation by Lida Toshitsugu should also do very well.
Viz, which has recently scored something of a success with the release of its sports manga, Prince of Tennis, is also launching a new sports series this fall entitled Whistle. Created by Higuchi Daisuke, Whistle is a soccer manga, which is currently running in the Japanese Shonen Jump and has reached eleven volumes in Japan. While it has a standard sports plot -- soccer-mad kids from an ordinary school going up against an elite sports academy -- Whistle features strong characterizations that help suck the reader in to a fast-paced and compelling narrative.