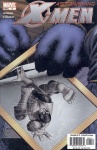 Astonishing X-Men reclaimed the top spot on the comic charts with its fourth issue, the first time it's led the pack since #1 was released in May. Estimated sales by Diamond were over 145,000. Superman and Identity Crisis continued their strong performances, with over 129,000 and 124,000 in sales, respectively.
Of the six titles over 100,000 in August, four were X-Men titles in whole or in part, and the other two were Superman and Identity Crisis.
Marvel ended up with eight of the top ten titles, and 19 of the top 25.
There were more titles down than up, not that unusual for August -- 14 down vs. 6 up.
On the graphic novel front, the second collection of League of Extraordinary Gentlemen sold over 10,000 copies in August, a good comic store performance for a $14.95 trade paperback.
Diamond sold almost 6,000 copies of the JLA/Avengers oversized slipcover hardcover set at $75.00, making it nearly a half-million dollar product.
The top 25 comic titles in August, with our estimates of the numbers sold to comic retailers by Diamond Comic Distributors, are as follow:
145,543 Astonishing X-Men #4
129,256 Superman #208
124,601 Identity Crisis #3
109,587 X-Men End Bk 1 Dreamers & Demons #1
103,154 Ultimate X-Men #50
102,655 Ultimate Nightmare #1
98,578 X-Men End Bk 1 Dreamers & Demons #2
96,279 Ultimate Spider-Man #63
95,838 Uncanny X-Men #447
94,682 Ultimate Spider-Man #64
91,790 X-Men #160
90,670 Ultimate Fantastic Four #10
88,118 Amazing Spider-Man #511
75,562 Marvel Knights Spider-Man #5
72,287 Batman #631
68,340 Ultimate Elektra #1
66,620 X-Force #1
65,304 Wolverine #18
63,894 Teen Titans #14
61,798 Supreme Power #12
61,719 JLA #103
60,750 JLA #104
56,153 Excalibur #4
52,271 Spectacular Spider-Man #18
52,090

Daredevil #63
We are estimating actual sales by Diamond U.S. (primarily to North American comic stores) rather than pre-orders (as we did for the past several years) because Diamond recently changed its reporting and began basing its indexes on actual sales (see 'ICv2 Kicks Off New Top 300 Reporting'). We use those indexes and publisher sales data to estimate a sales number for Batman (the anchor title diamond uses in its calculations), and use that number and the indexes to estimate Diamond's sales on the remaining titles. We can check the accuracy of our numbers by comparing the Batman number that we calculate using multiple data points; our numbers for Batman are within 1/10 of 1% of each other, ensuring a high degree of accurcy.
Because of that change, we will not be able to do year over year comparisons until February of 2004, but in general, it's an improvement to have actual numbers to work with rather than preorders, which have significant differences from sales.