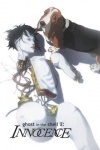 Mamoru Oshii's Ghost in the Shell: Innocence only made it to #28 on last weekend's box office chart, earning a grand total of some $317,000. But since the film only played at 47 venues, its per theater average of $6,760 was the best of any film during the lackluster weekend box office session, which was down some 30% from the same frame in 2003.
The film will expand into 7 more theaters this weekend taking it to Baltimore, MD, Denver, CO, and Sacramento, CA. With generally good reviews (especially from big time film critics), Ghost in the Shell: Innocence could continue its run for a while, though it will make its financial mark in the U.S. on DVD.
With manga from Dark Horse and the stylish TV anime, Ghost in the Shell: Stand Alone Complex (which is actually much more accessible than Innocence, see 'Ghost in the Shell Anime Special Edition') from Manga Entertainment/Bandai, this property, which was one of the primary inspirations for The Matrix, should gain considerable momentum this fall, especially after GIS: Stand Alone Complex finally premiers on the Cartoon Network on November 6.