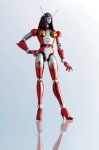 Diamond Comic Distributors has announced that it has formed a 'strategic partnership' with Bandai Co., Ltd. for the importation of Bandai's Japanese toys and models for sales to specialty stores in the U.S. As it has done with other, smaller Japanese toy companies, Diamond will offer Bandai's products, in their Japanese packaging, to comic shops at prices comparable to prices consumers pay for American toys for collectors.
Bandai is the largest in the growing list of Japanese toy companies with which Diamond has struck similar deals. Eliminating intermediaries and allowing Diamond to directly import toys created for the Japanese market to the U.S., the deals also provide for aggressively low pricing here, increasing sales opportunities for retailers. Diamond VP of Purchasing Bill Schanes acknowledged the long period of groundwork the Bandai deal took. 'This is something we've been working towards for many years now,' he said. 'We're extremely pleased to finally have Bandai of Japan aboard with us.'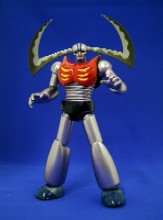 Diamond will offer the first Bandai products acquired via its new relationship with Bandai in the October Previews. Included in this first wave are Gundam Seed model kits and products from Bandai's Soul of Chogokin line of 'high-end, ultra-detailed die-cast' toys.
In coming months, Diamond will solicit for orders on other Soul of Chogokin products, including Mazinger Z characters and Neon Genesis Evangelion's EVAs; Soul of Popynica die-cast vehicles and figures based on classic and recent anime, including Kaneda's Motorcycle from Akira; Super Imaginative Chogokin figures, usually with a motorcycle or vehicle, based on Kamen Rider and other characters; and Gundam Fix Figuration, which are deluxe, highly-articulated action figures of Gundam Mobile Suits.