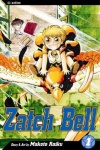 The Cartoon Network has acquired 52 episodes of the Zatch Bell anime series, produced in Japan by Toei Animation and repped by ShoPro Entertainment. Current plans have the series debuting on the Cartoon Network in the spring of 2005. The action/adventure series is aimed at boys from 6 to15, so a spot on the Cartoon Network's late afternoon block or Saturday lineup would seem appropriate.
Viz has plans to publish the Zatch Bell manga which is by Makoto Raiku. The story revolves around a brilliant junior high school boy who is relentlessly teased by his classmates until his father presents him with a strange companion, a weird little boy named 'Gash Bell' (it looks like he will be 'Zatch Bell' in the American version) with a little red book full of magic spells (shades of Harry Potter).
In Japan, where the series is entitled Konjiki no Gash Bell!!, its TV ratings are quite strong, ranking well ahead of Yu-Gi-Oh, and just ahead of Naruto and Pokemon.
Strangely enough no U.S. anime distributor has announced Zatch Bell yet, and in spite of the connection between ShoPro and Viz (and the fact that Viz has the Zatch Bell manga), it is not a foregone conclusion that the anime will be added to Viz's growing stable of titles.