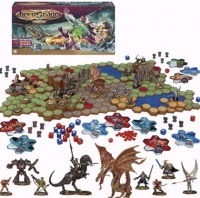 Milton Bradley's new Heroscape boardgame includes a three-dimensional game board, 30 detailed miniatures and features an epic battle between champions from across the ages ranging from dragons and Vikings to military men and futuristic robots.
Heroscape is designed to provide a fun quick gaming experience for players as young as eight, while also offering highly strategic play for the serious gamer. Players build various battlefield set-ups by creating their own customized battlefield fashioned with 85 large and small terrain tiles. Players can choose a basic or a master version of the Heroscape, using cards that dictate movement, range, defense or attack powers.
In the basic version players know who is on their side and their figures have no special powers. The master version adds skill with special attack powers, wounds and engagement rules. A point system pre-assigns values for each battle.
DC Comics is featuring a Heroscape comic (by Ty Templeton and Billy Dallas) insert in a number of its October comics including Justice League Unlimited, Batman Strikes and Teen Titans Go. Heroscape can be played by two or more players and has a suggested retail price of $39.95.