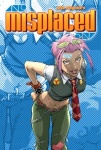 Devil's Due is launching a b/w digest line in January, with page counts from 128-144 pages, and a MSRP of $10.95. The moniker for the new line of Devil's Due Digests is D3.
Two titles are planned for January. Patrick the Wolfboy, written by Franco Aureliani with art by Art Baltazar will include 25 pages of new material in addition to some material previously published. This property is in development as an animated series. Misplaced vol. 1, by Josh Blaylock and Clint Hilinski includes a new 8-page story.
In February, Devil's Due plans a Penguin Bros. collection, written and drawn by Josh Blaylock, who will also contribute a new 8-page story and cover. The rest of the material is early Blaylock work from the mid-90s.
GI Joe:

Arashikage Showdown
is planned for March, with all-new material by Josh Blaylock and Tony Tamai.