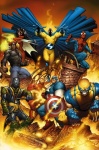 Marvel has announced a reprint of The New Avengers #1, which will street December 15th.

It will carry a third variant cover, different from the other two versions.

The art will be from EIC Joe Quesada's original sketch for the variant covers for all six issues of the book.

This will be the only way the art will be available as a single piece.