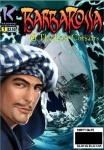 Kandora Publishing has announced four comic titles for launch in early 2005. Anchored by two titles written by Brian Augustyn, the new company will focus on the fantasy genres recently vacated by the demise of CrossGen. Other creative contributors include newcomer C. Edward Sellner and a roster of Asian artists.
First up is Barbarossa and the Lost Corsairs, written by Brian Augustyn and illustrated by H.S. Park, with colors by Transparency Digital and letters by Dave Lanphear. This 'high seas pirate fantasy adventure' will be a monthly series of 32-page color comics (all story) at $3.50, launching in March, 2005.
In April, Jade Fire #1 will ship, also written by Augustyn. Jade Fire is a 'mystical martial arts tale.'
In May, Savage World, an apocalyptic dark fantasy series, will launch.
And Monarch of Manhattan, a modern day urban sword and sorcery comedy, will launch in June.