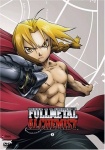 Cartoon Network has released ratings information for the November period, and there was good news for pop culture retailers in the numbers. In the influential Adult Swim block, the adult audience of 18-34 year-olds grew 24% vs. a year ago. Within that group of viewers, the female audience grew 88%. These numbers imply a growing over-all market and a growing female market for the products associated with the shows on Adult Swim. The block continued to be the #1 programming on basic cable for adults 18-24.
Two new shows premiered on Adult Swim during November: Fullmetal Alchemist, which FUNimation is releasing on DVD; and Ghost in the Shell: Stand Alone Complex, which is being released on DVD by Bandai Entertainment. Bandai had earlier reported that Ghost in the Shell had premiered strong (see 'GITS Premiere Tops'). Sources at FUNimation have also indicated that they were very happy with the initial numbers on Full Metal Alchemist.
The Toonami block, which has been moved to Saturday evening to reflect its older audience (and Cartoon Network's emphasis on kids during its weekday programming) was delivery 8% more viewers than the same time slot did a year ago. Teen Titans was the strongest program during that block, with a 37% increase in audience vs. the year-ago period.