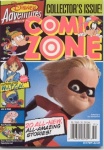 Disney is headed deeper into comic publishing with the increase in frequency of its Disney Adventures Comic Zone digest to four times a year. The Winter 2005 issue, which released this month, features The Incredibles on the cover and W.I.T.C.H., The Incredibles, Super Robot Monkey Team Hyperforce Go, and over a dozen other comic stories inside. Disney Adventures Comic Zone is 96 pages, digest-size.
Disney said in its announcement that newsstand sales on the first two issues, Winter and Summer 2004, were 'well above' the average sales on the standard Disney Adventures issue. The average circulation on Disney Adventures is 1.2 million, with a readership of 4 million, according to the announcement (the target audience is kids 6 to 14). If that number reflects sales (and not copies distributed, for example) four issues a year would produce annual sales of 5 million copies. And if the circulation of Comic Zone does end up being 5 million copies a year or more, it will be among the bestselling comics in the U.S. in both dollars and pieces per year.
Spinning off a periodical comic title from Disney Adventures represents a significant allocation of existing brand equity. And that's only one of several moves Disney is making into the comics business through a number of divisions.
Disney is licensing its film and TV properties to Tokyopop for its Cine-Manga line, using screen shots and dialogue from the source films or TV shows. The first three Disney-based Cine-Manga titles from Tokyopop sold a combined 670,000 copies in the first year (see 'Tokyopop, Disney Plan More Cine-Manga')..
Disney also licenses comic material from around the world to Steve Geppi's Gemstone Comics, which publishes a half dozen titles in a variety of formats each month.
And currently in development are two initiatives involving Disney's book publishing unit, Hyperion. Disney recently acquired the CrossGen assets, which will be exploited by Hyperion and by other Disney divisions (see 'Disney Publishing Acquires CrossGen Assets'). Hyperion has also acquired at least one manga property, which it is publishing itself for the first time (rather than licensing pre-existing Japanese material, see 'Hyperion to Publish Manga').
Individually, these five publishing initiatives are of modest size.

Put together, and with another year or two of Disney muscle behind them, the Disney comic publishing ventures could be a major player in the U.S. comics industry.