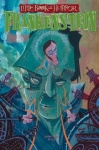 IDW Publishing has announced that it will release Little Book of Horror: Frankenstein in March as the first in an ongoing series of hardcovers featuring new and classic horror properties.
This color hardcover series, each 48 pages and 6' x 9', will be comprised of text excerpts with accompanying paintings. Each two-page spread will include one page of text exerpts and one painting.
Little Book of Horror: Frankenstein will feature the creative talents of writer Steve (30 Days of Night) Niles and award-winning illustrator Steve Morse. The second book in the series will present Bram Stoker's Dracula.