The ICv2 Awards are an on-line continuation of a tradition that began in Internal Correspondence, the print predecessor of ICv2, over a decade ago. These awards are given as a way of reflecting on the events of the year and to draw some conclusions from them. The ICv2 Awards are based entirely on the business impact of events on retailers, as determined by the editorial staff of ICv2.
Anime Phenomenon of 2004 -- Anime Goes Late Night
TV exposure is a key driver of anime sales in the U.S. and in 2004 the nature of that exposure changed profoundly as the Cartoon Network dropped its late afternoon Toonami block, which had been a key element in making the various Dragon Ball series mass market hits. The Cartoon Network replaced Toonami with the Meguzi Block, which sounds Japanese, but which so far consists of ersatz anime like Megas XLR and anime-influenced superhero series. Reportedly the Cartoon Network was concerned that the audience for the anime series was skewing older than its late afternoon advertisers wanted.
The Cartoon Network remains one of key anime venues in the U.S., but it is the Network's Toonami block, which currently airs on Saturday nights and especially the late night Adult Swim block that are the key TV sales drivers for anime. Inuyasha, Ghost in the Shell: Stand Alone Complex, Wolf's Rain, .hack//SIGN, Full Metal Alchemist and Case Closed have all benefited from late night exposure on the Cartoon Network.
Another key late night anime venue is Anime Unleashed, begun by Tech TV and continued on the G4 video game-oriented network that acquired Tech TV. G4 has a built-in tech-savvy, teen-and-older audience that is a great fit for anime. In 2004 Anime Unleashed really hit its stride with a number of hot series (primarily from Geneon) including Last Exile, Gungrave, Read or Die the TV, and Gad Guard.
In addition to after-dark exposure on Cartoon Network and G4, anime also reached an older audience via MTV, which ran the Heat Guy J series and is planning to show the hip-hop-influenced Tokyo Tribes anime series next year. Given the changing pattern of TV exposure for anime in the U.S. in 2004, it's no wonder that there was no break-out Dragon Ball/Pokemon, youth-oriented mass market hit--though on the positive side there was solid growth of an older, more sophisticated anime audience, which made its presence felt in the increased attendance at anime cons and in strong sales of more sophisticated anime titles such as Ghost in the Shell: Stand Alone Complex, Wolf's Rain and Inuyasha.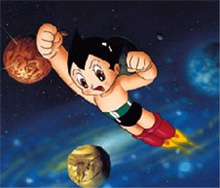 Flop of the Year -- Retro Anime
Japan has experienced a major boom in nostalgia in recent years that evidenced itself in modern remakes of number of anime series produced in the 1960s and 1970s. Although successful in Japan, these revivals have not fared well in the U.S. Most disappointing was the new CGI Astro Boy series, which received a brief trial on the Kids WB Network. Created by the great Osamu Tezuka, Astro Boy was considerably more successful during its first run in the U.S. in the 1960s than it was during 2004. In spite of first-rate computer animation and interesting humanistic plotlines, the new Astro Boy has made almost no impression here in the States.
Two other anime revivals, Cyborg 009 and Kikaider, based on properties created by Tezuka's contemporary Shotaro Ishinomori, have also failed to catch on with youthful audiences in the U.S. Perhaps it was the 'old school' character design or a lack of consistent exposure, but retro anime series from the 60s and 70s flopped in the U.S. in 2004.
For Part 1 of the ICv2 2004 Anime Awards, including Top Anime Company and Top Anime Property, see 'ICv2 2004 Anime Awards, Part 1.'
And for the previous year of the ICv2's Comic Awards, please see 'ICv2 2003 Anime Awards, Part 1' and 'ICv2 2003 Anime Awards, Part 2.'