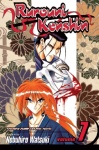 The ICv2 Awards are an on-line continuation of a tradition that began in Internal Correspondence, the print predecessor of ICv2, over a decade ago. These awards are given as a way of reflecting on the events of the year and to draw some conclusions from them. The ICv2 Awards are based entirely on the business impact of events on retailers, as determined by the editorial staff of ICv2.
In previous years we have folded 'manga' and all forms of American comic publications into a single category (Tokyopop was our 'Comics Publisher of the Year for 2003), but the size and continued growth of the manga market in North America in 2004 clearly indicates to us that manga is worthy of its own series of awards. So here are ICv2's first ever 'Manga Awards.'
Top Manga Publisher of the Year -- Viz
Choosing the top manga publisher for 2004 was an extremely difficult decision, but in the end we picked Viz because, in a year in which the manga market increasingly segmented itself into 'top tier' titles and mediocre performers, Viz managed to establish a number of titles in the upper echelon. Led by Rurouni Kenshin, Naruto, and Inuyasha, Viz's list also included a strong all ages component with Yu-Gi-Oh and Shaman King, as well as a number of great shoujo titles including Hana Kimi, Angel Sanctuary and Alice 19th. While Viz did extremely well in 'units sold,' the $7.95 cover price of the publisher's popular Shonen Jump line, which includes Kenshin, Naruto, Yu-Gi-Oh, One Piece, Bleach and Shaman King among others, made for a lower dollar share.
Tokyopop, with a list that includes such mega-titles as Fruits Basket, .dot hack, D.N. Angel, FLCL, and Saiyuki, came in a very close second for our 2004 Award. Tokyopop published more manga titles in English than anyone in 2004 and with its various subsidiaries and co-publishers around the world remains the largest American manga publishing house. While continuing its attempts to get manga into the mass market, Tokyopop also did an excellent job in 2004 of increasing its sales to independent direct market retailers.
While Tokyopop and Viz dominate the English language manga market, Dark Horse had a very good year in manga in 2004 thanks to very strong performance from its Trigun and Hellsing releases -- top ten performers in both the bookstores and the direct market. Dark Horse also began publishing Fred Gallagher's Megatokyo in 2004, the best-selling manga series ever by an American artist.
Top New Manga Publisher of the Year -- Del Rey
This category might not be around in most years, but a market that is growing as fast as manga has during the past few years is bound to attract its share of new entries -- and getting established is no mean feat. Despite the fact that there were a number of successful launches of manga publishing operations in 2004 including ADV and Broccoli Books, the winner in this category was not difficult to choose. Buoyed by the agreement between its parent company Random House and the Japanese manga publishing giant Kodansha, Del Rey Books launched a compact (4 titles at the start) and highly successful manga line in the spring of 2004. Three of the four initial Del Rey releases, Ken Akamatsu's Negima and Clamp's Tsubasa and xxxholic, quickly established their bona fides as top tier performers -- and did so in spite of a cover price ($10.95) that broke the $10 barrier. Del Rey has provided the model that other new entrants in the manga derby, such as Bandai Entertainment, will attempt to emulate.
Top Manga Releases of the Year -- Rurouni Kenshin and Fruits Basket
These two series battled for the top spot throughout 2004, and although Kenshin sold more pieces, Fruits Basket with its $9.95 cover price accounted for more retail dollars. These two titles also represent two different aspects of the North American manga market and demonstrate that manga's appeal here is not limited to either male or female readers. Rurouni Kenshin is a samurai epic and the manga has benefited not just from exposure in Shonen Jump, but also from showings of the Rurouni Kenshin anime on the Cartoon Network. Fruits Basket is the best-selling shoujo (girls' comics) manga series in Japan, and the series has done equally well here in the States. Female readers, while certainly not the only consumers of manga, have been major contributors to the success of manga on this continent -- and, although the majority of shoujo manga are still sold in bookstores, savvy comic shop retailers have discovered that manga can attract female customers to their stores.
Phenomenon of the Year -- Publisher Shakeout &
Release Slowdown
The proliferation of manga releases and gravitation of sales to upper echelon titles during 2004 made it a tough year for some smaller manga publishers. Three publishers, Gutsoon Entertainment, IC Entertainment (formerly Studio Ironcat) and ComicsOne, all went on hiatus. While some ComicsOne titles appear to be returning from a different publisher and Gutsoon may come back, Studio Ironcat has now officially ceased publication. The shakeout of manga publishers has officially begun and will likely continue in 2005 even as new publishers such as Penguin Books and Bandai Entertainment enter the fray.
While the number of manga releases may grow somewhat during 2005, the major proliferation of titles from year to year that has characterized the first years of this new century appears to be over. Tokyopop plans on keeping its 2005 list about the same as 2004 and other publishers also appear to be scaling back the number and frequency of their releases. A year ago many North American manga publishers were moving toward the American comic book model of a new release in a particular series every month, but today they are talking about 2-3 months between the volumes in a series (especially with new releases) in order to give the title a chance to catch on in an increasingly competitive market.