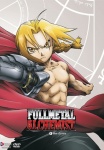 In addition to a manga series, which is now slated to debut in May (see 'Viz Gets Fullmetal Alchemist'), Viz, LLC will publish novelizations as well as a hardcover art book based on the popular Full Metal Alchemist property.
The Full Metal Alchemist manga by Himoru Arakawa will be rated 'T' for teens and will carry a cover price of $9.95. Arakawa's manga series, which was originally published in Square Enix's monthly RPG manga magazine Shonen Gangan in 2000, inspired the popular anime series, which has been a major hit in Japan (and which debuted strongly here in the States on the Cartoon Network) as well as a vast array of merchandise including action figures, video games, apparel and a CCG. FUNimation released the first Full Metal Alchemist DVD here in the U.S. in January.
Viz plans on releasing a series of Full Metal Alchemist novelizations with the first volume releasing in October 2005. The full color Art of Full Metal Alchemist, which is certain to be a prime gift book for the holidays, is due out in November.