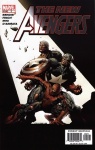 The top 13 best-selling comics were all Marvels in January, with the top title from any other publisher selling less than 70,000 copies. Marvel had 20 of the top 25 comic titles. DC's top titles from the month before were absent in January -- Identity Crisis, Superman/Batman, and Superman were four top ten books in December that did not have releases in January.
Top titles were more down than up, with 16 of the top 25 titles declining compared to the previous issues. At the top of the list, two #2s held the same positions the first issues did, but the numbers, of course, were lower. New Avengers #2 dropped 36% compared to the first issue in December, and Ultimates 2 #2 dropped 22%.
Like the top comics, sales on the top graphic novels were lower this month, with the #1 graphic novel, Dark Horse's Samurai Executioner Vol. 3, selling 7,200 copies in January.
The top 25 comic titles in January, along with our estimates of the numbers sold by Diamond Comic Distributors to comic stores, are as follow:
153,751 New Avengers #2
113,379 Ultimates 2 #2
108,466 X-Men: Phoenix - Endsong #1
90,619 Ultimate X-Men #54
87,447 Ultimate X-Men #55
87,411 Uncanny X-Men #454
85,934 X-Men #166
83,987 Ultimate Spider-Man #71
79,842 Amazing Spider-Man #516
79,831 Wolverine #24
74,730 Wolverine: The End #6
74,501 Ultimate Fantastic Four #15
68,339 X-23 #1
65,953 Teen Titans #20
64,094 JLA #110
61,831 Marvel Knights Spider-Man #10
60,465 X-Men / Fantastic Four #2
60,225 JLA Classified #3
58,630 Batman #636
56,367 X-23 #2
53,306 Captain America #2
49,771 Flash #217
48,874 Spectacular Spider-Man #23
48,727 Daredevil #69
47,824

Spectacular Spider-Man #24
We are estimating actual sales by Diamond U.S. (primarily to North American comic stores), using Diamond's published sales indexes and publisher sales data to estimate a sales number for Batman (the anchor title Diamond uses in its calculations), and using that number and the indexes to estimate Diamond's sales on the remaining titles. We can check the accuracy of our numbers by comparing the Batman number that we calculate using multiple data points; our numbers for Batman are within 1/10 of 1% of each other, ensuring a high degree of accuracy.