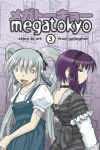 Fred Gallagher's Megatokyo Vol. #3, published by Dark Horse, reached the third spot on the BookScan list of graphic novels sold in bookstores for the week ending February 20th, the best showing ever for an American-created manga title.
During the week ending February 27th Tokyopop's Fruits Basket Vol. #7 maintained its position at the top of the list for the third straight week and has now sold more volumes in 2005 than any other graphic novel title.
Viz's Rurouni Kenshin Vol. #12 soared up to #2 in its second week of release, while Rurouni Kenshin Vol. #11 took the fifth spot.
Newcomers to the top ten include Yu Watase's Ceres Celestial Legend Vol. #10 in the eighth spot and Simpsons Comics Barn Burner, the only non-manga title in the top 25 (the Book of Bunny Suicides at number 30 and the Joss Whedon penned Astonishing X-Men Vol. 1 were the only other non-manga releases in the top fifty).