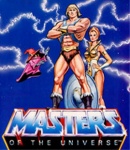 The Navarre Corporation has announced that its wholly owned subsidiary BCI Eclipse Company, LLC has acquired exclusive distribution rights to Entertainment Rights' classic animation series, He-Man and the Masters of the Universe and The New Adventures of He-Man. Based on a toy line from Mattel that predated the cartoons by two years (and was supposedly inspired by the Arnold Schwarzenegger Conan the Barbarian film), the He-Man and the Masters of the Universe animated series left a profound impression on the generation of American kids who grew up during the 1980s. Navarre, which recently announced a plan to acquire American anime powerhouse FUNimation Productions (see 'FUNimation Acquired By Navarre'), is obviously serious about moving aggressively into DVD production and distribution.
Navarre and BCI have also demonstrated sensitivity to the key collector audience for the He-Man property by hiring two consultants--Andy Mangels, author of Animation on DVD and Val Staples, head of MVCreations, publisher of the new Masters of the Universe comic book--to work on the various He-Man releases and the production of special collectible features for the DVDs. The first He-Man DVD, which is scheduled to launch in July 2005 in conjunction with the San Diego ComicCon, is a ten-episode 'best of' collection clearly intended for the widest possible market among the generation that grew up watching the original He-Man series, which aired from 1983 to 1990. The BCI/Navarre press release was quick to point out that there's more to come. 'This first release will be followed later in the fall of 2005 with the first of multiple DVD box sets of the complete series in 'season' format, plus comprehensive and generous special features,' it said.
Given that the original He-Man series includes 130 episodes, which were essentially produced during two seasons from 1983-85 (though they ran continually in syndication until 1990), and that the 1990-1991 New Adventures of He-Man has 65 episodes, it would appear that collectors as is the case with Season 2 of the Transformers, the actual 'seasons' of He-Man will be split into two parts in order to keep the cost of box set down.