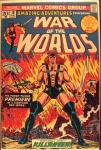 Variety is reporting that Sony Pictures is in negotiations with Marvel Entertainment in an effort to turn the 1970s Marvel comic book character, Killraven, into a major science fiction movie franchise. Unlike many of the films made utilizing some of the minor characters from the Marvel universe (Man-Thing for example, which is heading straight to DVD after a debut on TV), Sony is reportedly planning to turn Killraven into a major 'tentpole' release. The studio is negotiating with Pulitzer Prize-winning playwright Robert Schenkkan (The Kentucky Cycle) to adapt Killraven for the silver screen.
The Killraven character originally appeared in Marvel's Amazing Adventures Featuring War of the Worlds #18 in 1973 and lasted until issue #39 in his first comic book incarnation (as Killraven Warrior of the Worlds). The various titular allusions to H.G. Wells are hardly gratuitous since Killraven is essentially a story of rebellion set in a future without the magic microbe that saved us in Wells' classic, a future in which the earth has been conquered by an alien race and mankind enslaved. Marvel briefly revived the character in two series of Killraven comics (7 issues total) that appeared in 2001-2003.
Although Killraven is still a long way from the screen, this project could have major repercussions for Marvel. Though Marvel constantly touts its library of more than 5,000 characters only two properties, Spider-Man and the X-Men, have really established themselves as solid gold movie franchises. Marvel's minor character Blade has done well, but none of the Blade films could really be considered a tentpole. If Killraven were to develop into a major movie franchise, Marvel would be in a much stronger position and could generate a lot more interest in the hordes of less-than-famous characters in the Marvel pantheon.