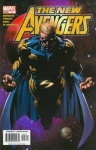 Sales on comics edged up modestly in February, with improvement both at the top and the bottom of the list of the bestselling titles in comic shops. Sales on four of the top six titles were up over sales on the previous issues this month, and at the bottom of the list, sales on the 300th title would have placed at #262 in January.
Piece sales also improved vs. the same month a year ago. There were six titles over 100,000 in February 2005, compared to only three in February 2004.
Graphic novel sales at the top of the Top 100 Graphic Novels list were unremarkable, with the top seller, Superman / Batman Vol. 2 at only 7,800 copies. But Dark Horse made a big move this month, with four of the top ten graphic novels, the most of any publisher. Three of those were new editions of the Sin City trade paperbacks. The fourth was the top manga title this month, the American manga Megatokyo (which also scored big in bookstores last month, see ''Megatokyo' Reaches #3').
The top 25 comic titles in February, along with our estimates of the numbers sold by Diamond Comic Distributors to comic stores, are as follow:
148,973 New Avengers #3
134,134 Astonishing X-Men #8
116,637 Superman / Batman #17
108,378 Ultimates 2 #3
108,077 Green Lantern: Rebirth #4
101,258 Superman #213
98,339 X-Men: Phoenix-Endsong #2
88,920 Uncanny X-Men #455
87,951 Young Avengers #1
86,767 Uncanny X-Men #456
86,685 Ultimate Spider-Man #72
84,155 X-Men #167
83,720 Ultimate X-Men #56
83,180 Wolverine #25
78,584 Amazing Spider-Man #517
74,783 X-Men: Phoenix-Endsong #3
73,082 Ultimate Nightmare #5
66,861 Teen Titans #21
64,540 JLA #111
60,460 Marvel Knights Spider-Man #11
58,034 Batman #637
57,047 X-Men Fantastic Four #3
55,510 Supreme Power #15
54,329 X-23 #3
53,606

JLA Classified #4
We are estimating actual sales by Diamond U.S. (primarily to North American comic stores), using Diamond's published sales indexes and publisher sales data to estimate a sales number for Batman (the anchor title Diamond uses in its calculations), and using that number and the indexes to estimate Diamond's sales on the remaining titles. We can check the accuracy of our numbers by comparing the Batman number that we calculate using multiple data points; our numbers for Batman are within 1/10 of 1% of each other, ensuring a high degree of accuracy.