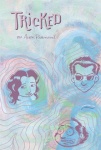 Top Shelf Productions, one of the leading publishers of alternative comics and graphic novels has announced three new graphic novels and a new comic book series, all of which are scheduled for the July/August timeframe and all of which will debut at the San Diego ComicCon International. Creator Rich Koslowski, who took on the Walt Disney mythos with Three Fingers, tackles the Elvis phenomenon with The King ($19.95), an offbeat tale of a masked Elvis impersonator, who fans are beginning to see as the real thing. Naturally enough Koslowski's 208-page, 2-color graphic novel is set in Las Vegas.
Certainly one of the most eagerly awaited Top Shelf releases is Alex Robinson's Tricked ($19.95), a 320-page tour de force from the creator of the brilliant (and mammoth) 608-page Box Office Poison (which will be available in a new edition at San Diego, $29.95). Robinson won an Eisner for Box Office Poison, and Tricked, which combines well-delineated characters with a complex and innovative narrative structure, is a strong candidate to garner its creator some more industry kudos.
The third new Top Shelf release of the summer is a debut graphic novel by Aaron Renier. Spiral-Bound ($14.95) is a 144-page, two-color graphic novel described as delightful tale of ambition, morality and self-discovery.
In addition to the aforementioned graphic novels, Top Shelf is also releasing the first issue of the 5-issue mini-series, The Surrogates, Top Shelf's first foray into mainstream comics as well as its first in-house production. The Surrogates is a science fiction saga in the tradition of Phillip K. Dick and William Gibson, a story that questions the notion (or at least taps into the dark side) of scientific progress. Writer Rob Venditti started working for Top Shelf in April of 2002, when he participated in the 12-hour miracle that saved the company (which was in dire straits thanks to the bankruptcy of its book trade distributor), while artist Brett Weldele was discovered by Top Shelf publisher Chris Staros during a portfolio review at the Savannah College of Art and Design. The Surrogates #1 will be a full color, 32-page comic with a cover price of $2.95.
Top Shelf is also issuing the 25th anniversary edition of the politically-charged World War 3 Illustrated (#36) in which Peter Kuper, Ryan Inzana, Joe Sacco, David Rees, Steve Brodner, Barry Blitt, Eric Drooker, Sabrina Jones, Sue Coe and Seth Tobacman take on the Neo-Cons, the followers of Leo Strauss who now occupy so many positions of power in the current administration where they pursue their vision of American power in the world and old-fashioned back-to-the-1950s morality at home.