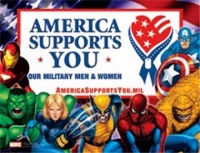 USA Today is reporting that this Thursday, at a special Pentagon press conference, Marvel Comics will announce the creation of a custom comic book that will be given away free to U.S. military forces around the world. Marvel plans to print (and give away) a million copies of the comic, with the first 150,000 going to American forces currently serving in the Middle East.
The comic, which will feature Spider-Man, the Avengers, the Fantastic Four and other Marvel superheroes, is a standard format edition of The New Avengers written by Brian Michael Bendis and illustrated by Dan Jurgens and Sandu Florea. According to Marvel spokesman Jeff Klein the special comic will not be sold or available to the public like a normal comic. 'We're not going to sell them. These are for the troops,' Klein told USA Today.
The comics will be given away free at military PXs and the army exchange store service will ensure that the books get to troops on the front lines in Iraq and Afghanistan. Because of the enormous size of the print run, Marvel doubts that the comics will become highly desirable collector's items, though the first wave of G.I.s to sell their copies on eBay should do all right.
Marvel's effort to do something positive for the troops is part of the Defense Department's 'America Supports You' campaign aimed at getting private citizens and businesses to show their support in a tangible way for the sacrifices made by America's servicemen.