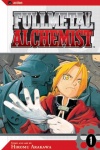 The first volume of the Full Metal Alchemist manga from Viz soared to the top of the BookScan chart of graphic novel sales in bookstores for the week ending May 1st; and made it all the way to #13 on the overall chart of paperbacks sold in bookstores.
The meteoric rise of the FMA manga is further indication that Full Metal Alchemist is the hottest new manga/anime property in the U.S. right now. The Full Metal Alchemist anime series is currently part of the Cartoon Network's Adult Swim block; and Viz plans to capitalize on the series' popularity by releasing the second volume of FMA manga in July and the third in September.
The fifth volume in Clamp's Tsubasa series from Del Rey made its way to second place in just its second week of release, while Dark Horse's adaptation of Star Wars Episode III slipped to third. Volume #1 in Frank Miller's Sin City series of graphic novels (also from Dark Horse) slipped to #7, but all seven volumes remained in the Top 25. Thanks to two volumes of Rurouni Kenshin (Vol. 14 at #4 and Vol. 13 at #8) and Naruto Vol. 6 (at #6), Viz placed four volumes in the Top Ten, followed by Dark Horse with three, Tokyopop with two (Fruits Basket Vol. 8 at #5 and DN Angel Vol. 7 at #9), and Del Rey with one.
The $25, brick-like R. Crumb Handbook improved two spots from #20 to #18.
Overall manga titles accounted for 38 of the Top 50 books on the list.