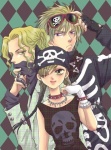 Go! Comi, a new manga publisher owned by TV producer/writer David Wise, announced four October launches at this weekend's Anime Central show in Rosemont, Illinois.
The four titles are all from Akita Shoten's Princess, and all are still ongoing in Japan. They will be edited by former Tokyopop Senior Editor Jake Forbes, who's now with Go! Comi. All will be published in the $9.99 right-to-left manga format.
The four series are:
Her Majesty's Dog, by Mick Takeuchi, tells the story of a girl with a spirit dog and a hot bishonen panting at her heels in an occult action romance title. Five volumes +
Cantarella, by You Higuri, is the story of Cesare Borgia. Higuri herself will be working directly with Go! Comi on this title in a 'Signature Edition' manga. Ten volumes +
Crossroad, by Mizuki Shioko, puts a 15-year-old girl in a home with two step-brothers (one a bishonen--forbidden love?), a kid sister, and no parents. Five volumes +
Tenshi Ja Nai!! (I'm No Angel!!), by Takako Shigematsu. A girl at boarding school ends up with a super-popular TV idol as a roommate. Five volumes +
The company is 'dedicated to both importing manga from Japan and developing new international collaborations,' according to the announcement, and accordingly, it also announced that it is developing new intellectual property, The Almost Legendary Shannon, a collaboration between You Higuri and Go! Comi's Audry Taylor.
Go! Comi owner Wise, who won an Emmy as writer for an episode of the Star Trek animated series, has a long writing resume in genre TV, including Isis and He-Man, Transformers, Batman:

The Animated Series, Cadillacs and Dinosaurs, Jim Lee's WildC.A.T.S., and in the largest block in his career, writing or story-editing over 100 episodes of Teenage Mutant Ninja Turtles.