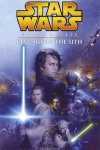 Viz's Full Metal Alchemist remained at the top of the BookScan list of graphic novels sold in bookstores for the week ending May 22nd. This was the fourth straight #1 finish for FMA, the longest stretch at the top of the list that any graphic novel has enjoyed this year. But the top-selling graphic novel for 2005 so far is the Dark Horse Comics adaptation of Star Wars Episode III: Revenge of the Sith, which remained in the second position for the fourth week in a row.
Volume #9 of Tokyopop's popular Fruits Basket series skyrocketed from #496 to #3 in its first full week of release and is a likely candidate to end Full Metal Alchemist's reign in the next BookScan report. Fruits Basket Vol. 8 also remained in the Top Ten at number 9, and Tokyopop's Sokora Refugees Vol. 1 (written by Borders Group graphic novel buyer Kurt Hassler) made its debut in the Top Ten at #7.
Viz had five of the Top Ten titles with (in addition to FMA) Rurouni Kenshin Vol. 14 at #4, the stylish shonen ai vampire series Descendants of Darkness Vol. 5 at #6, Naruto Vol. 6 at #8 and Shaman King Vol. 6 at #10. Del Rey' popular Clamp title Tsubasa Vol. 5 slipped just one place and ended up at #5.
For the first time in a long time none of Frank Miller's Sin City graphic novels were in the Top Ten, though all were in the Top 50. The R. Crumb Handbook slipped to #13, while Dark Horse's Star Wars Visionaries vaulted up from #76 to #31. Overall manga took 39 of the top 50 spots on the chart.