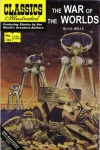 Jack Lake Productions, a Canadian publisher, is publishing a special 50th Anniversary Edition of Classics Illustrated #124 War of the Worlds by H.G. Wells. The 48-page full color book has been painstakingly recreated to do full justice to Lou Cameron's excellent artwork, which made this comic, first published in 1955, one of the favorites of the entire series.
A hardcover edition of the book will be available for $14.99 ($19.99 CDN), and a soft cover version will sell for $9.99 ($12.99 CDN).
The re-issue of the Classics Illustrated War of the Worlds will ship during the first week in July, just after the launch of the new film version of the science fiction classic directed by Steven Spielberg debuts on June 29th. The book will be offered in the next edition of Diamond's Previews and will be distributed to bookstores via Hushion House Publishing.
Jack Lake Productions has already published 26 Classic Illustrated Juniors, including Grimm Fairy Tales, Cinderella, Paul Bunyan, The Ugly Duckling, The Wizard of Oz, Pinocchio and other classics of children's literature in comic book form.
Jack Lake has also published The Story of Jesus (#129) and The Ten Commandments (#135) from the original series, but the publisher is using War of the Worlds to see if there is enough interest to re-print a number of the other titles from the original Classics Illustrated series, which consists of some 169 titles published by Alfred Lewis Kanter from 1941-1971.