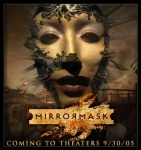 The announcements of events planned for San Diego Comic-Con International, which kicks off next Wednesday, have been arriving for several weeks now, but this one was worth special note. A MirrorMask Welcome Party for the convention will be hosted by the Jim Henson Company, Destination Films, Samuel Goldwyn Films, and Dark Horse on behalf of the Comic Book Legal Defense Fund. The party will be held Thursday evening, July 14th, at the Westgate Hotel from 8-11 p.m.
The event will be free to CBLDF members, and open for a modest suggested $5-$15 sliding scale donation for non-members. Attendees will receive a MirrorMask takeaway from the Jim Henson Company, be entered into a special raffle, view a trailer of the film, and see artifacts that will be used to decorate the Westfield Terrace.
MirrorMask is written by CBLDF board member Neil Gaiman and directed by legendary artist Dave McKean; the release date is September 30th. Dark Horse is the product licensee (see 'Dark Horse Goes to the Movies').
This unique event is a great place to mingle with some of comics' biggest stars, get the flavor of this exciting upcoming movie release, and contribute to a great cause.

See you there!