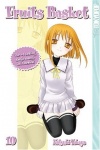 Fruits Basket Vol. 9's five-week reign at the top of the BookScan chart of graphic novels sold in bookstores has come to an end, but Tokyopop's Fruits Basket property still remains #1 as the next volume in the series, Vol. 10, moved from #7 to #1 in its second week of release. Nipping at the heals of Fruits Basket is Del Rey's Negima Vol. 6, which moved from #8 to #2 in its second frame. Viz's Full Metal Alchemist Volume 2 exploded from #58 to #3 and should provide for strong three-way competition for the top spot next week.
Full Metal Alchemist #1 remains in the fourth spot and is starting to close in on Dark Horse adaptation of Star Wars Episode III, which dropped to #31, for the best-selling graphic novel of the year so far. Another Del Rey title, Wallflower Vol. 4, narrowly nosed out Fruits Basket Vol. 9 for the fifth spot. Tokyopop titles took three out of the final four spots in the top ten with Gravitation Vol. 12 at #7, Tokyo Mew Mew a La Mode at #9 and DN Angel Vol. 8 at #10. Dark Horse's Vampire Hunter D took the eighth spot.
Tokyopop had one of its strongest weeks of the year with five of the top ten and nine of the top 20 titles.

Manga increased its domination of the bookstore bestseller list accounting for 23 of the top 25 titles. Aided by the success of the Batman Begins movie, Batman titles continue to do well in bookstores with five titles in the top 50, but the Caped Crusader's booktrade performance hasn't come close to the achievements of Sin City or Star Wars.