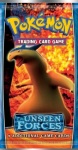 Nintendo is planning an extensive consumer marketing campaign in support of its next Pokemon TCG expansion, EX Unseen Forces, due to street August 24th. TV support for the game will continue (see 'Nintendo Plans TV Support for Pokemon TCG'), with ads running on 4Kids TV on the Fox Network from August 27th to September 10th.
Print ads will appear in magazines seen by over 2.6 million people, including Boy's Life, Disney Adventures, Sports Illustrated for Kids, Nintendo Power, Inquest, and Scrye. Boy's Life and Nintendo Power will include over 1,000,000 Unown sticker and activity inserts with art from a special type of card that hasn't been previously seen in EX series.
Promotional activities will include providing product and activities to 1,000 Boys and Girls Clubs and other kids organizations and at a New York street fair attended by over 500,000 people. Pokemon Rocks events will be held around the country in September and October.
Other marketing support includes online advertising on kids' sites, consumer conventions, and organized play events.

State of the art L.E.D. signs and shopping signs will also be made available to retailers through hobby distributors.