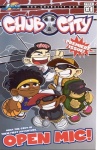 Jada Toys is introducing its Chub City line of character toys and die-cast vehicles this month. Backstory for the line is being promulgated via comics (the first promo comic was distributed at the San Diego Comic-Con) and Webisodes.
The Chub City line is designed to appeal to young boys, an extension of the demographic that Jada targets with its similar line of Dub City cars, which appeal to boys tween and up. Both vehicle lines feature tricked out/custom die-cast cars with authentically licensed parts from aftermarket companies that make rims, tires, body kits, etc.
There are six Chub City characters, an MC, a b-baller, lead singer of a punk band, an artist, a DJ, and an aspiring singer, all of whom are trying to make it in their chosen fields. The characters are depicted in 3.5' figures; vehicles will include die-cast motorized vehicles, radio-controlled 4.5: vehicles, and 8' and 9' vehicles with light, sound, and working chrome spinners. Initial vehicle releases will include the Hummer H2, Scion xB, Dodge Magnum R/T, and Chrysler 300C.
The first wave of products will hit Wal-Mart, K-Mart, and KB Toys this month, priced from $6.99 to $19.99.