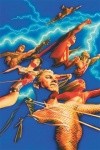 Spurred by the increasingly frequent practice of multiple cover marketing, Alex Ross' new Justice maxi-series for DC (which sported two different Ross covers) topped the charts in August with sales of over 190,000 copies. Although no title came close to July's record-setting debut of the Frank Miller/Jim Lee All-Star Batman and Robin The Boy Wonder, and 19 of the top 22 continuing series posted declines, comic book sales for August were up substantially from July and posted an even more impressive 16% gain over sales in August 2004.
Comics written by Brian Michael Bendis, New Avengers #8 (156,000), New Avengers #9 (146,000) and House of M #5 (141,000) took the second, third and fourth spots with Astonishing X-Men #12 (126,000) coming in fifth giving Marvel four out of the top five spots. DC kept the market share battle with Marvel very close by snagging 6 out the top 10 titles and 10 out of the top 25.
In addition to Supergirl #1 (shipping with two covers), which debuted at #6, DC had the only three top 25 titles that actually gained circulation, The Omac Project #5, JLA #117 and Teen Titans #27.
Alan Moore's Top Ten: the Forty Niners hardcover dominated the graphic novel charts with sales of nearly 10,000 copies of the $25.00 volume. In 7th place on the graphic novel list, Viz' Naruto Vol. 7 was the top-selling non-Marvel/DC graphic novel with Dark Horse's Trigun Maximum Vol. 6 close behind.
The top 25 comic titles in August with our estimates of the number sold to North American comic shops through Diamond Comic Distributors are:
190,424 Justice #1 (of 12)
156,037 New Avengers #8
145,673 New Avengers #9
140,680 House of M #5
125,834 Astonishing X-Men #12
123,270 Supergirl #1
108,511 Green Lantern #3
96,932 Green Lantern #4
94,010 The Omac Project #5 (of 6)
87,995 JLA #117
87,610 Uncanny X-Men #463
84,721 Villains United #4 (of 6)
82,690 Ultimates 2 Annual #1
77,378 Ultimate Iron Man #3
76,342 X-Men #174
76,229 Ultimate X-Men #62
75,618 Wolverine #31
75,572 Ultimate Spider-Man #81
75,101 The Rann / Thanagar War #4 (of 6)
74,782 Teen Titans #27
72,046 Amazing Spider-Man #523
71,887 Day of Vengeance #5 (of 6)
71,767 Ultimate Fantastic Four #22
70,811 Ultimate Spider-Man Annual #1
67,910 Ultimate X-Men Annual #1
We are estimating actual sales by Diamond U.S. (primarily to North American comic stores), using Diamond's published sales indexes and publisher sales data to estimate a sales number for Batman (the anchor title Diamond uses in its calculations), and using that number and the indexes to estimate Diamond's sales on the remaining titles. We can check the accuracy of our numbers by comparing the Batman number that we calculate using multiple data points; our numbers for Batman are within 1/10 of 1% of each other, ensuring a high degree of accuracy.