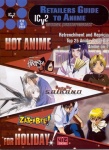 In issue #12 of the Retailers Guide to Anime/Manga, published this month by ICv2, we looked at Naruto and Full Metal Alchemist, the first two properties to come along in years with a real chance of rivaling Akira Toriyama's Dragon Ball sagas in popularity. Full Metal Alchemist has clearly become the breakout property of 2005 and Naruto's dynamite debut on the Cartoon Network had a searing and immediate effect on manga sales. While shonen titles such as FMA and Naruto -- fueled in large part by TV exposure--threaten to break out to the next level of popularity, shoujo series such as Tokyopop's Fruits Basket and D.N. Angel continue to do extremely well without any help from the small screen. The Top Ten Manga Properties in 2005 so far as judged by ICv2 are:
1. Fruits Basket
2. Full Metal Alchemist
3. Naruto
4. Rurouni Kenshin
5. D.N. Angel
6. Tsubasa
7. Negima
8. .hack
9. Inuyasha
10. Yu-Gi-Oh!
Meanwhile those American anime companies that deal almost exclusively with the hardcore anime market are facing a marketplace that was overwhelmed by the number of releases in 2003 (728) and 2004 (726). While it appears that the number of anime releases will decline substantially in 2005, piracy is also key concern for anime companies given the tech-savvy nature of most anime fans, although it is also true that fansubbing and other gray market activities helped build the awareness of anime here in the States. With a relatively small fan base and increasingly high licensing fees, American anime producers have been loath to lower prices on new releases, which might be the best way to combat piracy. ADV has been extremely innovative in its use of 'bit torrent' technology as a marketing device allowing fans to download samples of new series that go far beyond the traditional movie trailer. Still most American anime companies have begun to lower prices on their backlist titles beginning a process that may eventually make anime releases more competitive with DVDs from other categories such as TV shows on DVD. The Top Ten Anime Properties at this point in 2005 as judged by ICv2 are:
1. Full Metal Alchemist
2. Inuyasha Movie #3: Swords of an Honorable Ruler
3. Nausicaa: Valley of the Wind
4. Appleseed
5. Steamboy
6. Samurai Champloo
7. Ghost in the Shell: Stand Alone Complex
8. Samurai Seven
9. Ghost in the Shell: Innocence
10. DBZ: The Movie #11: Bio-Broly
For the full list of top anime and manga properties along with in-depth market analysis, and previews of all the top anime and manga launches see the magazine (for information on how to obtain your copy, see 'ICv2 Releases Retailers Guide to Anime/Manga #12').