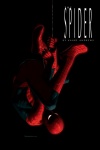 Marvel has announced that it is repositioning its Marvel Knights imprint as a showcase for self-contained limited series featuring characters 'off the beaten path.' The imprint will also allow more creative freedom for the creators, according to Marvel EIC Joe Quesada. 'Marvel Knights is the showcase for 'evergreen events,'' he said, '....a place for top talent to work without constraints.' Past miniseries that fit the new positioning include Ennis and Crain's Ghost Rider, Frank Cho's Shanna, the She-Devil, and Rodi and Ribic's Loki.
New miniseries planned for the repositioned imprint include Fury: Peacemaker (shipping next month); Silver Surfer: Requiem, by J. Michael Straczynski and Esad Ribic (early 2007); Spirit of Vengeance, by Ennis and Clayton Crain; and The Spider, telling the story of Peter Parker's future, by Kaare Andrews.
Several titles that no longer fit the Marvel Knights positioning are being moved to the Marvel Universe banner, including Black Panther (beginning with #14), Daredevil (beginning with #82), Moon Knight (beginning with #1), Squadron Supreme (beginning with #1), and Wolverine (beginning with #42). Marvel Knights Four will become Four with #28, and Marvel Knights Spider-Man will become Sensational Spider-Man with #23.