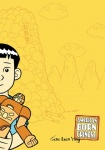 First Second Books has an impressive list of six full color graphic novels set for release later this year. The first wave of First Second titles (see 'New Graphic Novel Publisher Debuts This Spring') has not yet shipped to retail, but the imprint of Roaring Book Press (a division of Holtzbrinck Publishers) has already announced its fall slate of graphic novel releases. Gene Yang's American Born Chinese is a collection of three apparently unrelated tales that come together with an unexpected twist to produce an astonishing climax with a mighty blast of humor and surprising poignancy.
In contrast to the contemporary setting of American Born Chinese, George O'Connor's Journey Into Mohawk Country is a literal graphic novel rendering of the journal of a Dutch adventurer exploring the region that is now known as upstate New York way back in 1635.
Leland Myrick's Missouri Boy is a sensitive autobiographical tale of the artist's Missouri boyhood, which provides a thoroughly original take on growing up in America rendered in an artistic style reminiscent of the great European cartoonists such as Jacques Tardi and Hugo Pratt.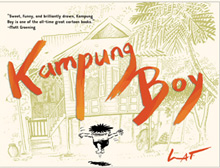 Not all of First Second's fall titles have an American setting -- Kampung Boy is the skillfully drawn memoir of a Muslim boy growing up in Malaysia. Matt Groening (The Simpsons) considers this humorous saga from Southeast Asia's most popular cartoonist, 'sweet, funny, and brilliantly drawn...one of the all-time great cartoon books.'
Joann Sfar (The Rabbi's Cat) is responsible for the final two volumes on First Second's fall list, a second book in the delightful Sardine in Outer Space series of all ages graphic novels, and Klezmer, a stunning watercolor evocation of itinerant Jewish musicians roaming the shtetls of Eastern Europe during the 1920s and 1930s. Given the revival of interest in klezmer music here in the States, this volume should find a ready audience.