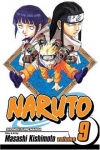 Naruto Vol. 9, published by Viz Media LLC., reached #29 on the USA Today's list of the 150 best-selling books for the week ending February 26. The USA Today list includes all genres and types of books, fiction and non-fiction, hardcovers and paperbacks, and though manga dominates the BookScan list of graphic novels sold in bookstores, it hasn't made much of an impression on the USA Today chart. The best previous performance by a manga title was turned in by Tokyopop's Fruits Basket Vol. 10, which reached #69 on the list in July of 2005.
Two other Viz Media manga also made the list, Rurouni Kenshin Vol. 24, which came in at #116, and Death Note Vol. 4, which made its first appearance on the USA Today list at #118.
Spurred by the presence of the Naruto anime series on the Cartoon Network, the Naruto manga, which has sold over 59 million volumes in Japan, has moved into the number one spot on the ICv2's list of 'Top Manga Properties,' which is published in both the Retailers Guide to Graphic Novels and the Retailers Guide to Anime/Manga. Viz plans to release the first Naruto anime DVD on March 28.