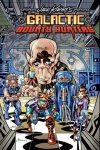 Marvel announced at last weekend's Wizard World LA that it will publish the Halo Graphic Novel, a 128-page jacketed hardcover, in July. The work will be produced by Bungie Studios, part of Microsoft Game Studios, with Marvel as the exclusive publisher. Halo, of course, is the property of Microsoft's Halo: Combat Evolved and Halo 2 videogames.
'Graphic novel' is a bit of a misnomer, since the Halo book will actually be an anthology of stories set in the Halo Universe. An all-star roster of creators has been assembled, including Moebius, Simon Bisley, Phil Hale, Ed lee, Tsutomo Nihei, Jay Faerber, Andrew Robinson, and Lee Hammock. In addition to the stories, the book will also include gallery pages with Halo-inspired artwork from all-star comic book artists and Bungie's design team. According to the announcement, additional Halo comic projects are in the works.
Marvel also announced that it will publish a comic series based on a Jack Kirby property, beginning in July. Jack Kirby's Galactic Bounty Hunters, with characters and concepts created by Kirby, as expanded by his daughter Lisa Kirby and long-time Kirby associate Mike Thibodeaux, will be published by Marvel under its Icon imprint. Other Kirby characters, including Captain Victory, will also appear in the book.
Marvel also made a number of other important editorial announcements at the show. J. Scott Campbell will be working exclusively at Marvel, and is collaborating with Jeph Loeb on a top-secret project.
Marvel's Civil War will lead into at least two ongoing Marvel Universe titles: Punisher: War Zone, by Matt Fraction and Ariel Olivetti, launching in August; and Ant-Man, by Robert Kirkman and Phil Hester, launching in October.