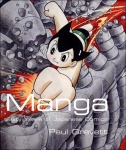 Bill Postmus, Chairman of the Board of Supervisors of suburban San Bernadino County, California, has ordered the county's libraries to remove the scholarly text Manga: Sixty Years of Japanese Comics from circulation. He proudly announced the move, calling the book 'obscene comics,' on the county's Website, saying, 'That book is absolutely inappropriate for a public library and as soon as I was made aware of it yesterday, I ordered it to be removed immediately.'
The flap started in Victorville, after a 16-year-old checked the book out of the adult section of the library. The teen's mother 'was horrified,' according to a story in the local Desert Dispatch, and wrote a letter to the library asking that the book be removed.
County Library Collection Development Coordinator Nannette Bricker-Barrett, in a proud moment for free speech, was quoted by the newspaper as noting that it was the parent's responsibility to determine what a minor checked out of the adult section. 'It is the parents' responsibility since the library does not act as a parent. It is the library's responsibility to offer a broad spectrum of materials, not to exclude materials....Library policy affirms the American Library Association's Library Bill of rights, Freedom to Read, and Freedom to View statements.' The county-wide system had 13 copies of the book in its collection.
The 2004 trade paperback, written by Paul Gravett and published by Harper Design, is a history of Japanese comics, and includes, in several chapters, discussion of adult comics that depict sex and violence. The violence was apparently not an issue, nor was the fact that the reproductions of panels that feature sexual situations were, as far as we could tell, all R-rated and treated in a serious, scholarly way. Postmus' statement and the local newspaper coverage made much of the fact that the book contains 'sex with animals,' but we couldn't find it; we must not have looked as hard.
The vast San Bernadino County, east of Los Angeles, includes such suburban communities as Ontario, Chino, and Fontana, as well as the more remote Barstow and Twenty-Nine Palms.
Postmus has also called for the library system 'to draft a plan to protect children from inappropriate books and other materials that may currently exist in the county library system.'