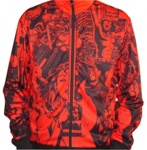 Dark Horse Comics, in collaboration with adidas, will debut limited edition shoes and track jackets featuring Dark Horse marks and properties in May, with all Dark Horse profits to be donated to the Comic Book Legal Defense Fund. The Dark Horse apparel will be part of adidas' 'adicolor' collection, which involves designs from the workd of fashion and art. The shoes will be limited to 5,000 pairs, and the jackets to a run of 2,500.
The jacket features a variety of characters from comics published by Dark Horse. Licensors and creators involved are Frank Miller (Sin City), Eric Powell (The Goon), Fredrik Malmberg at Conan Properties, Joss Whedon (Buffy/Fray), Yasuhiro Nightow (Trigun), Mike Mignola (Hellboy), Katsuhiro Otomo (Akira), and Katsuya Terada (Monkey King).
The Dark Horse track jacket and shoes will go on sale May 20th at 'select adidas retailers' around the world.
The profits, and the donation to the CBLDF, will amount to $18,000. The Comic Book Legal Defense Fund has been defending Georgia retailer Gordon Lee against charges that he distributed a comic depicting nudity to a minor (see 'DA Refiles').